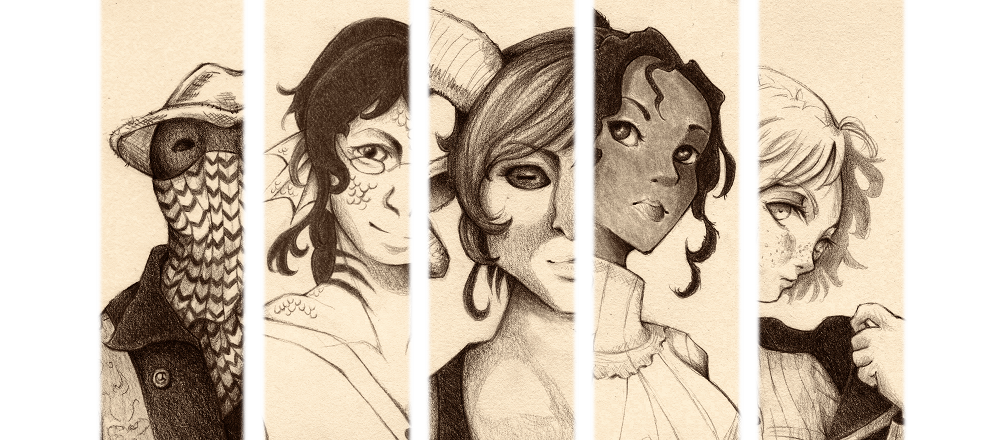 if not us
If you're into if not us, you'll probably like my upcoming visual novel Amarantus! It's about loyalty and loss and screwing things up. It's less of a downer...mostly.


Seven years ago, five heroes were brought together to save the world. Their success came at the cost of their leader's life; the secret behind it cost them their friendship.

Now they've been summoned for a new heroic quest.

if not us is about the moment when they realise everything isn't going to be okay.
The demo above includes two of the five vignettes.
Included on the Nebula Awards Suggested Reading List 2018

if not us [is] sort of like if you made Watchmen a D&D party of fantasy world saviours instead of superheroes...one of the best text-based games I found in the Itch.io Racial Justice Bundle - First Five

if not us is splendid; wonderful...it's five eulogies and five broken hearts, and again, and again. I cannot recommend it enough. - Damon Reece, lead writer of Necrobarista

if not us is a must-play for anyone who tells people's stories. It's sort of about what happens after destiny is done with you, and it plays with format phenomenally, and I love it. - Nissa Campbell

A collection of heartbreaking vignettes...obscure at times, but deliberately and productively so. - Cat Manning
It'll ruin your week! - Ben Schroder


Five short stories from five alternate timelines, each from the perspective of a different character and with new insight into the overarching narrative.
Each story has its own style of interaction: watch your life flash before your eyes, write a letter to your loved ones, plead your case, or just stand still and think for a while.
Some of our heroes may yet turn away from their deadly fates, some may succumb, and some may need convincing.
Nearly 30,000 words of branching narratives.
The stories in the anthology can be played in (nearly) any order, but you might find yourself revisiting one or two later with new insight.
I hope you like dramatic irony.
And big women with horns.

Director/writer/programmer: ruqiyah @pettyantics

Character design & art: @hiimshiny

Editing: saf @wanderlustin
Trailer music is "Requiem of the radboy" by Memphre.
Purchase
In order to download this anthology you must purchase it at or above the minimum price of $7 USD. You will get access to the following files:
the making of if not us.pdf
21 MB
if not us - Linux32.zip
105 MB
if not us - Linux64.zip
101 MB
if not us - Win32.zip
97 MB
if not us - Win64.zip
109 MB
if not us - OSX64.zip
98 MB
if not us fallback build.zip
22 MB
Comments
Log in with itch.io to leave a comment.
Is there a save function in the downloaded game? If there is I can't seem to find it.
Does this have Text-to-Speech?

Thanks for the question! Not at the moment, but I can look into it. There's a HTML version that runs in-browser that might be good for something.

i gasped when i read in the making of that arzan's name used to be arezou lolll i suppose you were going to make him and his husband persian & ended up it just being his husband? (shahnaz & firuz are very persian names and farrokhzad was just incredible persian) but it made me really happy to see a middle eastern gay character in a game (especially a persian specifically since I am myself). but thats just stuff that i wanted you to know i appreciated. this game was incredible and it took me way too long to realize the different parts were from different timelines. it was little confusing at first but it was really cool to go back to different sections and see what i knew compared to when i first played it
Thanks so much for leaving this comment, I've been thinking about it all morning. It's the first comment I've seen on the naming of Arzan + his family and I'm really glad someone noticed and that it meant a lot to them!!

I tried to download this for mac but it just gave me a folder with a few different files and an app that wouldn't run. Not sure what I did wrong.
Can you email ub4q.if@gmail.com with some more details (were you using the itch app or in-browser, what happened when you tried to run the app)? I'll look into it.
This game has been on my "to-play" list forever but I just gotten around to playing it today. At first I thought it's too obtuse, but I push through and now I really like it.

I think I've a pretty good picture of what happens in the story, but is there any indication of when I've "completed" it?

I think I've finished Alemaheyu (gotten him to Act), Ren (he got replies), and Arzan (both endings of the letter (are there only two endings??)). There are still two pages blacked out and inaccessible in Apollinariya and I have no idea what's up with Cevahir (is the wheat field the end?).

Thanks for playing! Glad to hear you persevered.

Sounds like you've seen an ending for all five chapters. The blacked out pages in Apollinariya's chapter are inaccessible + the wheat field is the end of Cevahir's chapter. There are a lot of endings for Arzan's chapter but two main ones, and quite a few for Al's but it sounds like you reached one of them.

There's no big thing that happens once you've completed every chapter; you'll have to decide for yourself when you're ready to stop playing.

The characters are lovely and the emotion just bleeds through it, but goddamn do I wish the story came through a little clearer. I've played it through about three or four times and I'm still a little lost, which is too bad because I am so deeply invested in this story. Absolutely worth every moment and dollar I've spent on it.
Thanks for the lovely words.
This isn't the sort of story to give you all the pieces, but between multiple replays + the making of book you have a pretty good set of tools. Beyond that I can only suggest swapping notes with other players!

That you! It's a very touching game. I read the pdf about making the game and found that very helpful :)